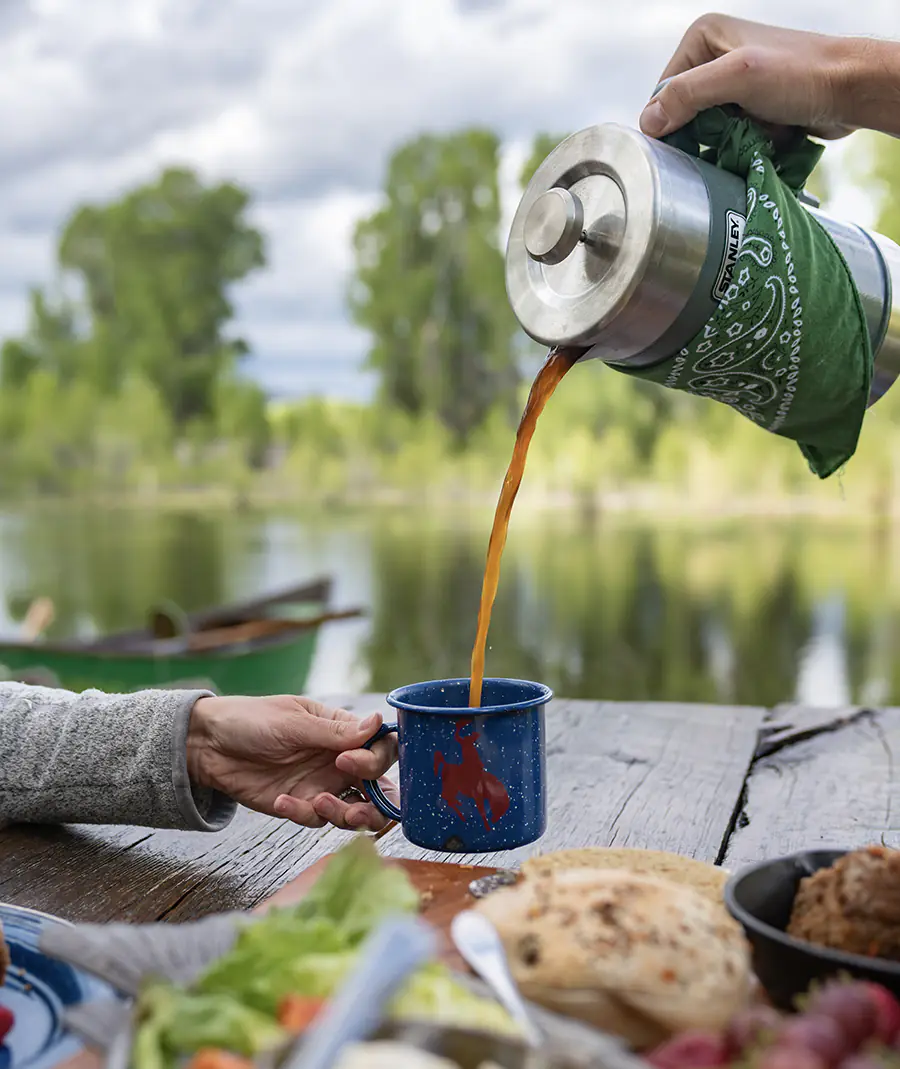 Scenic Trips and
Tipi Camp
Since 1978, Jackson Hole Vintage Adventures has been entertaining fishermen and scenic guests in handmade wooden drift boats. For our Snake River scenic float trips, we float earlier in the morning and later in the evening in order to provide our guests with a pristine adventure, while offering the best opportunities to view wildlife along the way. Our guides have decades of experience on the water and
are well versed in the ecology of the Snake River. We pride ourselves on delivering the highest level of customer service while creating lasting memories for our guests.
Luxury Snake River scenic float trips are a great way to experience the quieter side of Jackson Hole during the busy summer months. We offer a full menu of tours, with early morning departures, mid-day tours and evening floats, paired with a riverside fine dining experience. For family fun, a romantic afternoon or a gathering of friends, a scenic float is a wonderful way to disconnect from the hectic daily routines and reconnect with each other.
Jackson Hole Vintage Adventures entertains guests at Tipi Camp, a collection of tipis constructed entirely of wooden poles and canvas, as were the camps of native people and mountain men of a bygone era.
Vintage Wooden
Boats
Since 1978, I have been floating my fishing and scenic guests in wooden McKenzie River Boats. This boat evolved on the banks of the McKenzie River in Oregon in the 1940's. Since then it has migrated to the great rivers of the Intermountain West. It is now built in both fiberglass, plastic and aluminum but none of these materials have warmth and soul of the hand built wooden boat.
Our fleet is comprised of a variety of boats, all custom built for our specific purposes. Some can haul up to 6 guests, some for the romantic float for couples and others to accommodate fly fishermen. Some have been built for us by Ray Heater and Cyrus Happy of Ray's River Dories. Others have been designed and built by us. All are meticulously maintained by the guide who rows it, again, creating the pride of ownership that separates our guides from the rest. Vintage Jackson Hole Wooden Boat Tours
We also have ad "Historic Fleet". These are boats that we have acquired over the years. These boats have a long and sometimes very interesting story. Most have been"rescued" from back yards in Oregon, where they were destined to become flower planters. You will see these boats proudly returned to their former glory at our camp. They are there to be enjoyed by you, our guest, on the pond at camp.
The oldest was build by legendary builder Woodie Hindmann in 1953. A 1967 Jon Ostrem built boat is destined to end it's career in the Wooden Boat Museum in Leaburg, Oregon but for now continues to float the Snake River and is available for your enjoyment on the pond at camp. Come on down and row a legend.