Vintage Sleigh Rides in Jackson Hole
There really is nothing more nostalgic and rejuvenating than a horse-drawn sleigh ride through a cottonwood forest in the quiet corner of Jackson Hole.  If you're lucky, the timing is right and you can enjoy fresh snowfall decorating the trees all around you.  Sleigh rides run December through March, as long as the snow conditions allow.  The vintage wooden sleighs used on all our tours were hand-built in the old world craftsman style, and the feel and sound of the sleigh moving through the snow transports you to a simpler time, where the slow, steady gait of the horses set the rhythm and you are free to take in the sights and smells of an alpine winter wonderland.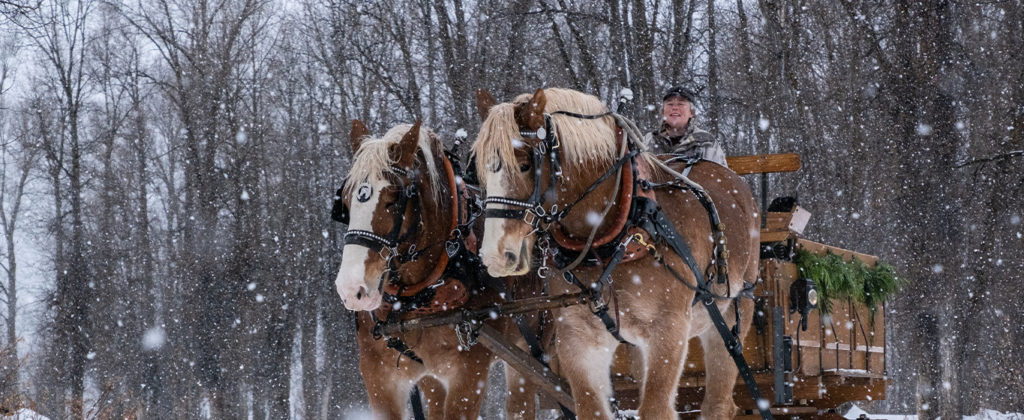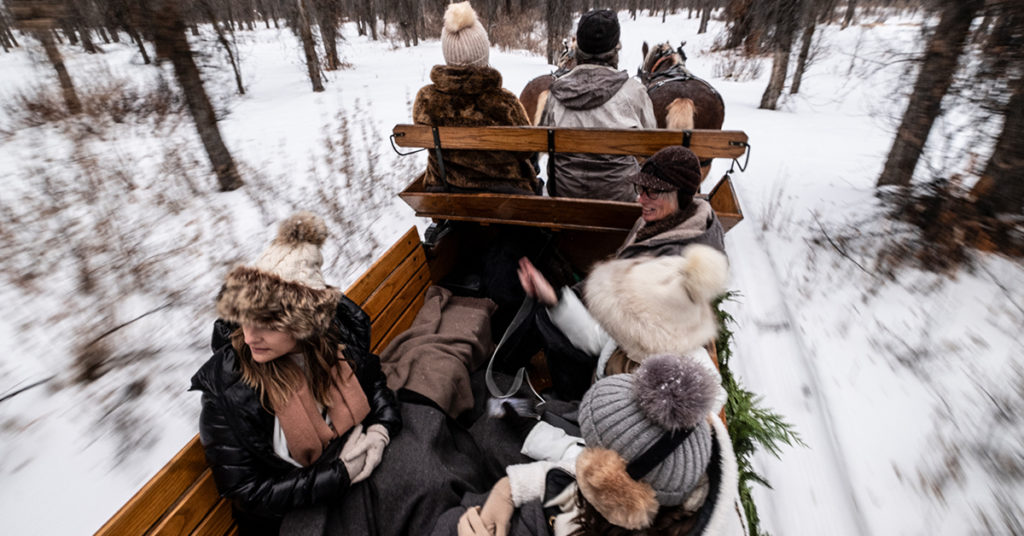 A Seasonal Favorite: Luxury Sleigh Ride with Dinner
Our most popular sleigh ride is the Sleigh Ride with Dinner.  This luxury winter tour departs around 3pm from our meeting location in Wilson, WY.  Upon arrival at camp, you'll be greeted by horse and sleigh and you'll begin your tour through the cottonwood forest, out along the Snake River and finally into camp where the chef will have appetizers and a delicious meal prepared for your enjoyment.  If you'd like to enjoy a bottle of wine with dinner or a nightcap next to the crackling campfire, simply bring your own, leave it with us, and we will have it ready for you when you're done with your sleigh ride.
On the menu this winter: the finest cuts of wagyu beef, bison or fish, grilled to perfection, served with cast-iron roasted potatoes and a side of vegetables.  Dessert is a warm berry crisp served with fresh whipped cream.
For the Whole Family: Hot Chocolate Sleigh Ride
For families traveling to Jackson Hole this winter, our Hot Chocolate Sleigh Ride is a seasonal favorite.  The tour departs at 10am, 1pm or 3pm during the day and allows just enough time for the kids to enjoy a sleigh ride, explore Tipi Camp and warm up with a steaming cup of hot cocoa and some homemade cookies.  You can plan the sleigh ride for the morning and still fit in a few hours of afternoon skiing, or do it in reverse, and pair a relaxing sleigh ride with a morning of powder skiing.  We guarantee that you'll all sleep contented after a day of winter adventure.
Booking Details
To book either of these tours, or any of our other luxury sleigh rides, give us a call (307-732-2628), or contact us online.  Each one of our tours is private and we value a personalized booking experience for each of our guests.  We recommend booking in advance, as our tours may sell out ahead of time.  In order to secure your spot for your preferred dates, contact us as soon as you know you'll be making the journey to Jackson Hole.
---